
Workflow: RNA-Seq
Create a Galaxy workflow
Galaxy provides the option to extract a workflow based on the steps you just followed and the tools and parameters used.
New to Galaxy? First try the introduction and then learn some key tasks
RNA-Seq
Log in to your Galaxy instance (for example, Galaxy Australia, usegalaxy.org.au).
Before we create a workflow for RNA-seq, we need the correct files in our current Galaxy history. We can get these files in two ways:
Either follow the tutorial on RNA-seq

Or, obtain the files from a Shared History (Galaxy Australia only).

Go to Shared Data
Click Histories
Click Published-RNA-seq-bacteria
Click Import (at the top right corner)
The analysis should now be showing as your current history.
When you have completed this tutorial or imported the history, you will have the correct files in your history panel.
Extract the Workflow
In the history panel, click on the cog icon.
Click Extract Workflow
If all looks ok, click Create Workflow
In the centre panel, click edit
This brings up the workflow canvas, a space for graphically viewing and re-arranging your workflow.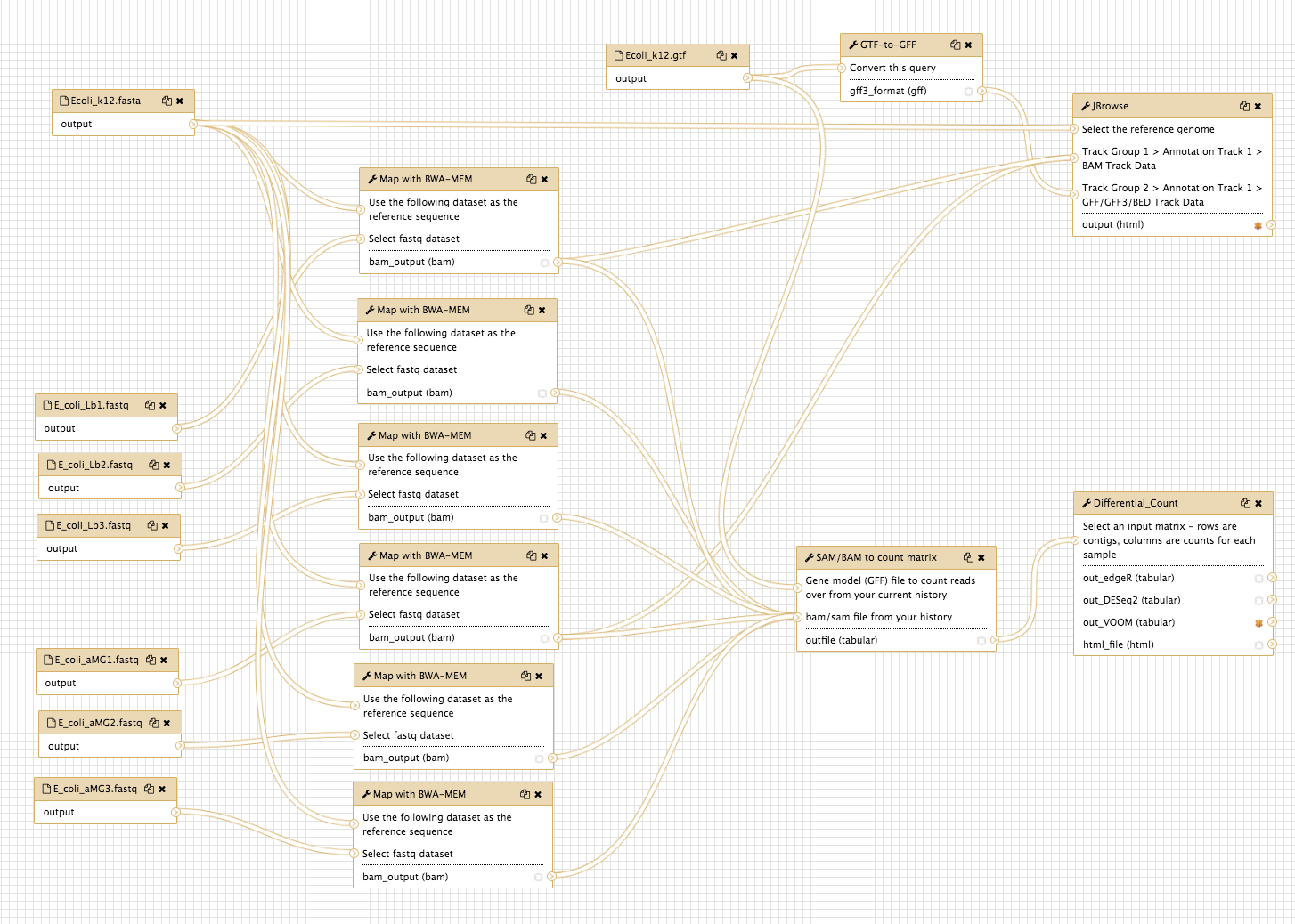 Drag the panes around until your workflow is clear.
Click on the star icon next to any output files that you want to retain, such as the JBrowse output and the voom output.
In the top right corner click on the cog icon and Save

Click on the cog icon again and Run

Send results to a new history: Yes
Check all input files are correct and change if necessary
In the top right corner Run workflow

This workflow will now run.

In the History panel, click on the View all histories icon
Find your workflow history and Switch to it.
To see all your workflows, go to the top panel in Galaxy and click Workflow.
You can edit or run workflows from here by clicking on the drop-down arrow next to each workflow.
What's next?
To use the tutorials on this website:
← see the list in the left hand panel
↖ or, click the menu button (three horizontal bars) in the top left of the page
You can find more tutorials at the Galaxy Training Network: